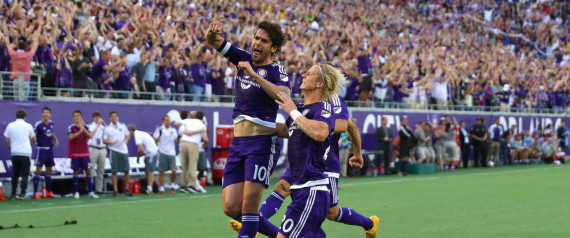 9 goals in the first 7 games wasn't the start MLS wanted, but at least we started.
However, for a league desperately hoping we'd forget its intransigence towards the players and making us wait till the last moment to secure any soccer whatsoever, the start was a little disappointing. Worst of all, it initially lacked anything new.
LA Galaxy
beat weak Eastern Conference opposition in
Chicago Fire
without breaking a sweat, and, sadly for the marketing boffins, without the much heralded services of Steve Gerrard.
On Saturday a plethora of uninspiring games played out with 7 goals in 6 matches, which yours truly here plowed through four of, really 4 1/2.
I must be among of handful of neutrals who watched
Philadelphia Union
draw 0-0 with a slightly improved
Colorado Rapids
side. In truth
Pablo Mastroeni's mustache was more interesting
than anything else on the pitch, although there are signs that the Rapids large number of new players may be gelling quicker than the worst fear..
Two sides with CONCACAF Champions League hangovers,
DC United
and
Montreal Impact
, met an hour before that.
The very first line of
Sean Maslin's match report on Prost Amerika was
:
"It is not how a team starts a season, it is how they finish that truly matters."
That wasn't exactly designed to suggest he had been riveted with high speed action for 90 minutes, and I haven't returned to watch the second half.
Houston Dynamo
perhaps labored more than they should have to see off
Columbus
who played reasonably well. But with Dynamo having a new coach Owen Coyle, overseeing his first competitive game, it was really a chance for the Crew to register something that will prove valuable in the Eastern Conference, a point from a trip to the Western.
Houston have a few new faces to integrate and
Raul Rodriguez impressed on his start
, a thought shared by team mate Kofie Sarkodie who noted:
"He's intelligent, he's good on the ball, which is probably the number one thing we need in the back. Because if we are trying to play more in the back, he has to have composure with the ball, he's never losing the ball, so to have that in the center back and for his range on the balls, I think is brilliant."
Giles Barnes caught my eye, even before he netted the deciding goal, and won my vote for MLS Player of the Week.
The match of the day was the Canadian Derby which saw the only Eastern Conference victory over the West in six inter league games. The
Whitecaps
started well but allowed
Toronto
back into the match for a
convincing and deserved 3-1 road
win.
But Toronto winning convincingly in Cascadia, raising their fans' expectations and then going on to be dross is not a distant memory for their long suffering and loyal following. At least the Caps start poorly and occasionally show flickers of being better than average before finishing the season that way.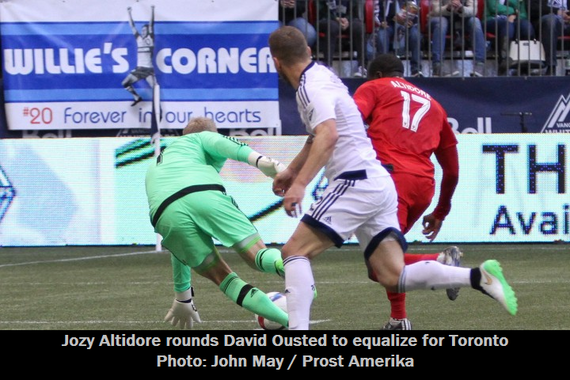 The bright spot for the Whitecaps was Octavio Rivero's splendidly taken goal on his debut, all the more satisfying for one Whitecaps observer who had Rivero as one of his
3 Whitecaps Hopes
for the season.
However Jozy Altidore's brace won both the game for Toronto and him the NASR PotW award.
"It was a familiar story for the Vancouver Whitecaps loyal support, failed chances in the first half to put the game out of reach while the opposing team makes halftime adjustments to bring about a come from behind victory," wrote Aaron Campbell in his post match analysis.
I will admit that I chose to watch
Portland
v
RSL
over
Dallas
v
San Jose
, attracted by Nat Borchers playing against his former club and to see whether the predicted disintegration of RSL in the post Garth Lagerwey era would take place. Is Lagerwey the first man since Beckham to have an era named after him?
Although the Earthquakes lost 1-0,
John Marshall writing on Prost Amerika
was slightly more upbeat despite the club extending their winless streak to 16:
"The first 15 minutes was a breath of fresh air for Quakes fans after seeing a much more competitive team capable of winning possession and then maintaining it compared to last year's counter-attack game plan. No longer playing "bunker ball", the midfield pressure applied by San Jose was able to force Dallas mistakes which lead to multiple scoring chances."
The final game of the day was at Providence Park in Portland where unlike some of Saturday's games, there was not an empty seat in sight.
New England Revs may have been without Lee Nguyen and Jermaine Jones the next day but Portland went into this game perhaps even more critically wounded. When they miss Diego Chara, Will Johnson and Diego Valeri, they miss not only the beating heart of the team, but the creativity and the thuggery.
Now you may think I am being a little tough on Chara by using the word thuggery. It is perhaps a reaction (maybe even an overreaction) to everyone associated with the club repeating ad nausea the statistic that Darlington Nagbe is the most fouled player in the league.
Firstly, it is part of a player's skill set to avoid tackles. Often it is unavoidable but there is no point using the statistic to point out Nagbe's usefulness. It exposes a minor flaw in his game. To be clear, Nagbe is not one of those players whose first instinct is to fall and claim a free kick to avoid the battle. He is a particularly honest individual on the field. However he needs to become more adept at skipping bad tackles.
But the bigger (and better) point was made eloquently by Niall McCusker in his
player ratings for the Timbers
in his remarks about Jack Jewsbury:
"Caleb Porter often comments on the number of fouls Portland players like Darlington Nagbe receive but complaining about it won't stop opponents seeing it as an effective strategy. What will reduce it is punishing the opponent by whipping good free-kicks into the box and creating goals,"
In short, Caleb, Ross, Keith, (their two announcers); please stop talking about how many free kicks you get, but how few goals you get from them.
Portland played very well given the absentees but came up against another recurring problem, RSL keeper Nick Rimando. The US international seems to perform outstandingly against the Timbers as a matter of routine.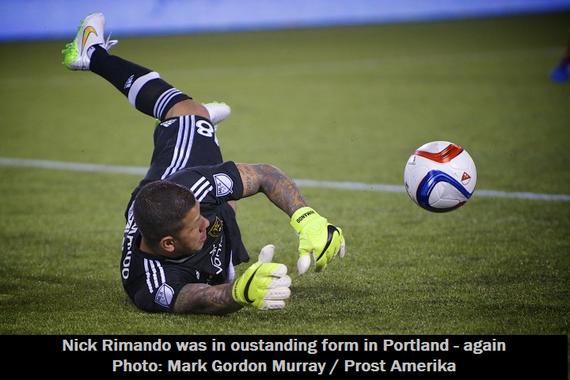 The match finished goalless and it was untested Ghanaian goalkeeper Adam Larsen Kwarasey who received the traditional Timbers log from Timber Joey.
It was really only on Sunday that the start of the season did more than flicker with events we are used to. The two new franchises
Orlando City
and
New York City FC
clashed at the Citrus Bowl. Screeds have been written about the crowd, the sense of occasion, the superstars and the importance of extending to the South East for the league.
I won't bore you with that all over again because the game itself was very interesting. Both sides started very nervously and that was more apparent in Orlando, primarily because they had the ball and it is harder to look wobbly without it.
Despite the presence of many big names, for me the
biggest star on the day was Kevin Molino
. Rather than be awed by the amount of greatness around him, he seemed to revel in it.
Frequently he managed to find
'dink space'
behind Andrew Jacobson, Jason Hernandez and Chris Wingert, none of whom had especially bad games. (
See NYCFC Player Ratings
)
NYCFC gave the appearance of being in holding pattern until Frank Lampard arrives. Professional instinct seemed to be driving them rather than any concept of dominating and winning the game. Having said that, the presence of many a good pro on the team made that worth a point to them.
I can see what Adrian Heath, the Orlando coach, is trying to do. With NYCFC, let's wait until their home game with the Revs before we draw too many conclusions.
Jeb Brovsky rode his luck at left back for the light blues. Twice referee Alan Kelly called a dive and booked the forwards, Cristian Higuita and Molino, when another referee might have called foul and produced a card. Kelly was probably right on the Higuita tumble, and the young Colombian will want to be careful he does not earn an early reputation for diving. With Molino, there was clear contact and the yellow card was awarded to the victim not the aggressor.
Sporting Kansas City
and
New York Red Bulls
played the ninth game of the weekend and tied 1-1. Both sides looked a little rusty and one concern for NYRB head coach Jesse Marsch might be the number of times Bradley Wright-Phillips
fell foul of the offside trap
.
Last year he had a player of supreme football intelligence in Thierry Henry to feed him. Maybe the Frenchman instinctively knew when to recycle the ball rather than pass somewhat better than BWP's likely suppliers this year. If not, the English striker may have to loiter a step further back which would inevitably affect the number of times he can escape markers and reach goal-scoring positions.
Then finally came the last game of the weekend.
Seattle
hosted
New England
. When the fixture list came out, this looked like a mouth watering tie. However with Jermaine Jones and Lee Nguyen absent, the Revs are little better than any of the better Eastern Conference sides.
Sounders brushed them aside comfortably with the quality of the third goal being the most outstanding thing. Obafemi Martins seems set to improve on his excellent form of 2014 and his understanding with Clint Dempsey seemed even a touch sharper than last year.
It's probably too early to come to any conclusion otherwise about the Sounders. Brad Evans did not look out of place at centre half, in what was a
very good defensive performance by the home side
.
Martins celebrated a goal with his traditional somersault, a moment superbly caught by cameraman Brandon Bleek. However out of mild curiosity and a cheeky sense of the preposterous, here is the image upside down.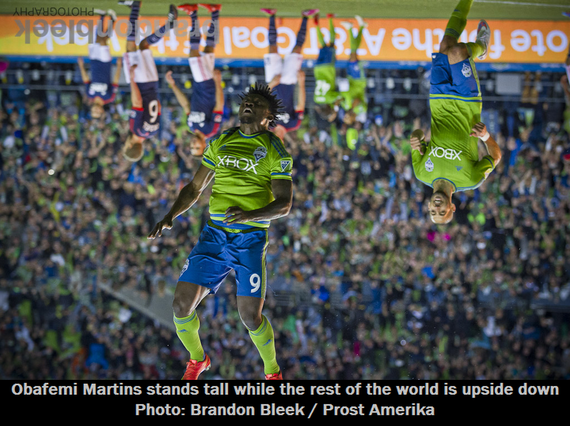 So that was Week 1 of MLS.
New York City v New England Revs looks interesting next week but keep an eye out for likely Western Conference play off rivals Dallas and Sporting who meet in Texas and TFC looking to start the season with two straight away wins when they visit Columbus.
Sounders have a very winnable tie at home to San Jose, and Portland also play at home for the second week running with LA Galaxy the visitors.
Finally, here's a poll to find out which game YOU enjoyed the most this weekend?
Share this