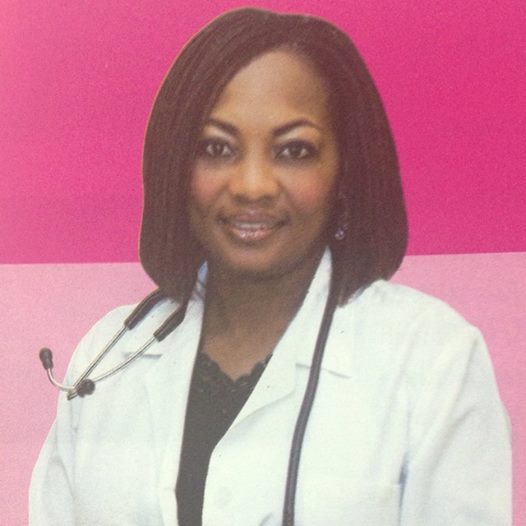 Dr. Stella Ameyo Adadevoh
(Photo: World Christian Broadcasting)
During the height of the
Ebo
la panic
, nurse
Kacie Hickox
, who cared for Ebola victims in Sierra Leone, was forcibly quarantined in New Jersey on her return to the United States. Said a friend and former classmate, "She's really concerned about her colleagues coming back to the U.S. after her. These are
heroes
, not criminals, and they shouldn't be treated as such." [Italics added.] Indeed, putting one's life on the line to care for patients suffering from
Ebola Virus Disease
(EVD), one of the most infectious illnesses on earth takes extraordinary courage --and yes, a type of heroism.
Americans may have had the impression, particularly after the evacuation of Ebola-infected medical missionaries
Dr. Kent Brantly and Nancy Writebol
from Monrovia to Emory University Hospital in Atlanta, and
Dr. Craig Spencer
to Bellevue Hospital in New York City, that the heroes of Ebola are only physicians and medical staff from the United States and organizations such as the Red Cross or Doctors Without Borders. But scores of African healthcare workers have made the "ultimate sacrifice" in their heroic care of Ebola victims.
A Resolute Woman of Distinguished Pedigree
Stella Ameyo Adadevoh was a West African physician who died in the line of duty in a battle against EVD. Born October 1956, she was the descendant of Nigerian nationalist and founder
Herbert Macauley
, himself the grandson of
Samuel Ajayi Crowther
, the first African Anglican bishop. A senior consultant endocrinologist, Dr Adadevoh had been working in Nigeria for 21 years at the First Consultant Hospital in Obalende on Lagos Island when Nigeria's EVD index case (the initial patient an epidemiological investigation) arrived at the hospital on July 20, 2014 and came under her care.
His name was
Patrick Sawyer
, a 40-year-old naturalized United States citizen who was public health manager for multinational steel company
ArcelorMittal
in Liberia. On July 9, 2014, he reported to his employer that he had been exposed to his Ebola-infected sister, who had died from the disease two days prior. He was instructed to stay away from the worksite until the incubation period of 21 days had passed, and he was referred to Liberia's Ministry of Health.
Although he was supposedly under the supervision of the ministry, Sawyer
managed
to get out of the country after the Ministry of Finance granted him permission to fly to an
ECOWAS
conference in Nigeria as a member of the
Liberian delegation
. By the time he was en route, he had become severely ill, collapsing once he reached Lagos. When he was rushed to First Consultant Hospital, he did not report his exposure to his Ebola-infected sister, and in fact denied any high-risk Ebola contact whatsoever.
In hospital, Sawyer tested positive for malaria, but he failed to respond to appropriate treatment, and as he manifested increasingly hemorrhagic signs, Adadevoh's suspicions that he had EVD rose sharply. A
statement
by her and the hospital's chief medical officer explains how they proceeded to isolate Sawyer, establish
barrier nursing
, and test him for EVD despite his repeated denials of contact with an Ebola victim. In medical practice, this combination of wariness and questioning is called "having a high index of suspicion," and in this instance, Dr. Adadevoh had that. In contrast, it was all but absent in the now-infamous Ebola case in
Texas
.
Putting the Patrick Sawyer in isolation presented tremendous and varied challenges. Highly-placed government officials and the ECOWAS conference organizers pressured Adadevoh and the hospital administration to release Sawyer, which she vehemently refused to do. At the same time, Liberian officials were negotiating for Sawyer's return to Liberia. Ultimately it was the steadfastness of Adadevoh's character that prevailed, and Sawyer stayed right where he was in isolation.
His behavior became violent and troubling. On his being told that his Ebola test had returned positive,
he reportedly flew into a rage
, pulled out his intravenous catheter, splattered his blood around, removed his pants and attempted to urinate on his caregivers. Although Sawyer's actions may have appeared deliberately malicious, it is possible that by then he was afflicted with a kind of
Ebola encephalitis
, a poorly understood entity that causes erratic behavior and confusion.
Adadevoh stood up to these bureaucratic and medical clashes and stayed true to her profession and to principles of public health. No doubt she visualized any number of catastrophic outcomes had Sawyer been released from hospital. Imagine him staggering around one of the teeming open-air markets so common in West Africa, vomiting and releasing other deadly infectious fluids as his demise approached. Ebola could then have spread like wildfire, potentially affecting thousands. As it was, Nigeria suffered only eight deaths and was declared
Ebola-free
on October 20, 2014, after acting quickly and aggressively to trace and isolate contacts.
A friend said of Stella Adadevoh that she could be "martial with care and sweeping in her command," bringing to mind a decisive and confident woman who "was at home discussing experimental physics, molecular biology, public health [or] lipstick." But on August 19, 2014, she succumbed to the EVD she had contracted from Mr. Sawyer. She is survived by her husband and only son. Three other staff members at First Consultant Hospital also died.
Tribute to this singular physician does not ignore the dedicated work of present physicians and support staff working in the affected countries of Guinea, Liberia and Sierra Leone, but like
Dr. Sheik Umar Khan
, who died of EVD on July 29, 2014, Dr. Adadevoh gave her life at a time when the world health machinery was barely in gear. She very likely saved Nigeria from a nightmarish spread of Ebola that could have impacted other countries far beyond the borders of West Africa's most populous nation.
Share this