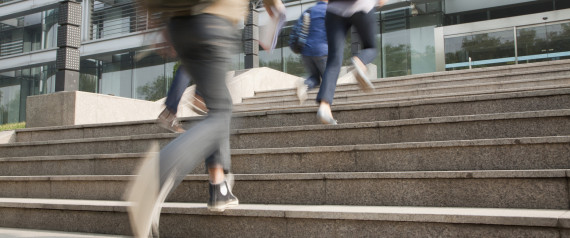 In the business world, investors carefully weed through proposals to find opportunities they believe provide the most room for growth and offer the greatest benefit for their organizations. They review the risks and analyze the long-term potential of their investments to determine whether or not an idea or project has merit. A successful educational institution follows the same process. We create programs and design beneficial curriculum to help our students obtain the training and skill sets they need to achieve their goals.
In the changing landscape of learning, those of us in higher education must shift gears far more quickly than our predecessors, perhaps even more so at community colleges than our four-year counterparts. The economy is still recovering. In the meantime, we must continue to devote much thought and diligence to maintain our momentum of innovation and enrollment growth.
A recent article in the
Chronicle of Higher Education
supports our knowledge that successful navigation of the changing climate is complex, and we and other institutions must continue on a proactive path in order to succeed.
As the cost of higher education increases, so does the student loan debt to the tune of $1.2 trillion and counting. As such, prospective students continue to scrutinize the return on their educational investment. More than ever, the outcome must provide a long-term, positive and tangible result of their time, effort and dollars spent. From our end, we must maintain a responsive business mindset to ensure longevity in the marketplace.
This type of forward thinking will be critical as higher education continues to evolve, according to this year's
Chronicle of Higher Education Trends Report
. It's seems a bit like common sense to me - "Product" after all is one of the Five Ps of marketing (Product, Price, Place, People, Promotion) I've mentioned in the past. If you have a product on the shelf that no one is buying, you take it down, retool it, get rid of it or replace it with something people do want. Whether the provider is a community college or a four-year school, all institutions must have the ability to adapt to the current market and student needs. We must make changes quickly to accommodate the changing marketplace and cater to student demands so they leave our College with strong potential for success in both their personal and professional lives.
The future of higher education will require more flexibility as students desire innovative alternatives to the traditional classroom setting. As we continue to combat the high price of education, institutions will be forced to examine not only the overall cost, but delivery methods as well.
Adaptability is necessary to keep up with the market, provide what students want in terms of programming, and respond to funding changes. As states throughout the country are dealing with their own budget deficits and are looking to make cuts, they will continue to move away from funding higher education. Uncertainty is king in Illinois and many other states. In a recent article in the
Daily Herald
, Illinois Gov. Bruce Rauner heaped even more ambiguity onto the issue of state education funding as he has yet to comment on what, if any, impact colleges and universities can anticipate under his administration.
Dealing with a loss of state funding, higher education will be forced to turn to property taxes and tuition increases to stay afloat. Property taxes can only generate so much revenue and tuition can only be increased by so much before students are turned off by the cost. Remaining relevant in the current marketplace speaks volumes about an institution's innovative spirit and offers students a degree of comfort in terms of being employable after they leave their institution of choice.
Our ability to adapt is one of the keys to the success we have been realizing at College of DuPage. Programs such as our
2+2 and 3+1 initiatives
, along with Pathways to Engineering with the University of Illinois at Urbana-Champaign, provide our students with a smooth transition as they finish their degrees. Additionally, we have launched more than 77 new programs, opening up additional opportunities for our students to explore new and emerging fields.
Our combined efforts have led us to consistent gains in enrollment. This spring, College of DuPage had the
largest increase in FTEs
(326) and credit headcount (1,008) in the state. Embracing change offers an assurance of longevity as we - and the rest of the higher educational community - face the challenges ahead of us.
Note: A portion of the following article written by College of DuPage President Dr. Robert L. Breuder was printed in an internal newsletter for COD employees.
Share this