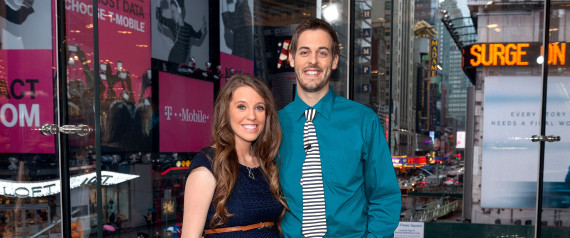 Derick Dillard, husband of
19 Kids and Counting
daughter Jill Duggard, has something of
a PR cat-astrophy
on his hands.
Dillard posted a gross video to Instagram last weekend. It shows him apparently trying to steer a cookie pan-cum-sled into a sweet orange feline, who'd had the misfortune of sharing a snowy hill with some members of the reality TV clan.
"Move, cat," Dillard seems to say, before receiving a shove from brother-in-law Ben Seewald.
Onlookers cheer and laugh. And the cat, phew, makes a last-second dash to safety.
Dillard's reputation, however, has not yet been similarly spared.
But lucky for Dillard, we've got the perfect solution to his public relation woes.
In case you missed it, here's the video:
19 Kids and Counting
airs on TLC, which is part of Discovery. Shannon Llanes, a spokesperson for Discovery, told The Huffington Post "no comment," when asked for a response to the video.
Dillard, too, has yet to make a statement about the video (and it's not like he and/or his people have been silent on all matters;
a great-looking recipe for no-bake cheesecake recently appeared on his Facebook page
.)
Plenty of others have had lots to say.
Some of the gentler critiques have involved
accusations of animal abuse
.
Religious hypocrisy
has come up, too.
For example, People for the Ethical Treatment of Animals has
reportedly asked Dillard to apologize for the incident
on those grounds.
"PETA is asking him to apologize publicly for his actions and remind his followers that Jesus' command to 'do unto others' includes all of God's creatures," said Sarah Withrow King, Director of Christian Outreach and Engagement -- who knew that's a thing? --
according to E
.
We think Dillard is uniquely positioned to do even more than that.
He's already used that massive platform of his --
more than 450,000 Instagram followers
, along with
a stupendously popular TV show
-- to show what a jerk he can be toward animals.
So how about now modeling some kindness to all those people, paying attention to his life?
For example, he might try taking some of those 19 kids and their expanding progeny -- he and Duggar are
expecting a baby soon
-- to visit an animal shelter. We bet videos and photos of that bunch spending time with some homeless furry critters would help rehabilitate Dillard's image -- plus might get some pets families of their own.
Alternatively, we'd be pleased to see the father-to-be
bring home a foster pet
-- especially if he's received some training beforehand on proper animal care and treatment.
Dillard also could make a big donation to a local shelter or rescue group, and/or launch a pet food drive.
All these would be acceptable, and good.
But we think, the best way for him to really make up for what he did to that cat, and to his image, is to use his big platform to show some big support for pet spay/neuter programs.
Kitten season will be here before we know it, which means that shelters will soon be chock full of felines.
Sounds great -- except cats are the most euthanized animals in shelters. About
1.4 million of them are killed in shelters every year
, largely due to overpopulation.
Spaying and neutering is the best way to bring that rate down, by reducing the number of unwanted animals born to begin with.
These procedures also
help keep cats healthier and safer
.
We already hear your doubt. This is, after all, a guy whose celebrity stems from being associated with a famously birth control-eschewing family.
But that's the beauty in this idea: Spaying and neutering cats is a completely separate animal from humans controlling their own reproductive choices -- one that is widely embraced,
even promoted
, within religious communities.
Yes, we've given this more thought than we've comfortable admitting, and have come to believe there's no better way for Dillard to show that he cares about animals, and his reputation, than throwing his weight behind spay/neuter.
It'd definitely help make up for throwing his weight right at that poor cat.
Share this